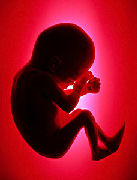 I don't know the cause, perhaps it's the current political climate in the US with political hopefuls vying to be their party's candidate for President. But just now it seems the issue of abortion has exploded in my social media feeds, replete with (rather unwelcome) grizzly images of dismembered unborn babies. For what it's worth, please be considerate of people who might not actually want to see such horrible things when they log in to catch up with friends or discuss other things. Do you want to be bombarded with unexpected and very graphic images of beheading victims, stabbing victims, crash victims and so on? But abortion is so hot right now, it seems.
Abortion is one of those issues where people just seem entrenched (the related issue of stem cell therapy is somewhat similar in this regard). No amount of pleading seems to get people to move – usually, at least. There are people who assume (quite wrongly, I say) that it's simply a religious issue. You would never oppose abortion unless you were religious, they think. There are those (like presidential hopeful Bernie Sanders) who think (again, very wrongly, I say) opposition to abortion is an attack on women and their reproductive rights. I don't think any comments like this have any merit, and I think they are evidence that many defenders of abortion rights are not seriously listening, or they don't really want to know why people oppose abortion (or they do, but they are willing to misrepresent the opponents of abortion, which is a hallmark of partisanship).
In spite of my fear that very few people are really open to listening to the evil "other side" of the abortion issue, I know that some people do, and some people even change their mind about it once they've listened. It's hard to predict what might give someone that little nudge across the line, but if it's possible that something I say might help do the job then I don't want to miss the opportunity. There is nothing new here. [click to continue…]
If you liked this post, feel free to help support this project.