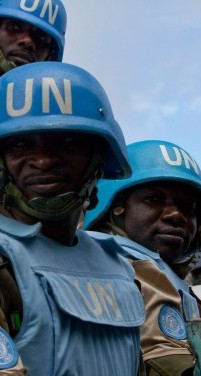 If the state gassing a civilian population is not justification for a war, then what is?
By now many of you will have heard about this story: Syrian government forces have killed up to 1,300 civilians in a gas attack. You may also have heard scepticism about whether or not the reports are true. I do not know whether or not they are true. But the possibility that they are true raises (in my mind, at least), the question of how bad is too bad before other people are required to intervene and do something.
The title of this blog post in intentionally provocative and reaching. But the point demands our attention (or at least, I request yours).
I am not a pacifist. Contrary to the claims of some Christians – some of which I have explained in the past and more of which I will discuss in future posts – Christianity is not a pacifist religion. The Bible is not a call to pacifism, and historically Christians have not thought so. If you think otherwise, then I maintain that you are wrong, but this is not the place to discuss that. I am also, as a rule, opposed to war. The circumstances under which war is justified are very few. However, if the use of chemical weapons on the part of the state, killing large numbers of civilians – non-combatants including children – is not grounds for those with the ability to intervene on behalf of the vulnerable, then there is probably no scenario that could justify war at all.
War is rightly waged to protect the vulnerable from oppressors who would kill them. It is not rightly waged on the basis of possibilities of what people may or may not be capable of (one of the major concerns voiced at the time of the Iraq invasion). The world is a much smaller place than it used to be. For better or worse, we are all neighbours on the world scene in a way that would once have been unthinkable. If a family was murdering its children right now and we all knew about it, then those of us with the power to do something about it would have a moral duty to do something about it right now. That is one of the most clear-cut justifications for getting involved in other people's affairs. This is what would make this war (if there were such a war) justified: Stepping in right now to protect defenceless people from immediate harm or death.
If this story is true, and if the Syrian state is wiping out chunks of its civilian population with chemical weapons, then there is not only an opportunity, but a moral imperative for her neighbours with the ability to do so to step in, attack and dismantle the Syrian state. To stand back and allow this to continue when we have the ability to do something about it is akin to sitting by and watching a child be tortured to death on the grounds that it is none of our business.  I expressed this view today in public. Some shared this view. Others did not. It is actually a view that I take to be obviously correct (there are plenty of views that I think are correct, but not obviously so). A number of objections were suggested, which I comment on briefly as follows.
I share the often-voiced concern that nations should not, as a rule, meddle in the affairs of other nations. This is the concern that is behind the derisive phrase "world police." The job of protecting the citizens of other states against aggression falls to the representatives of that society, the government. The problem, however, is that this is a situation where the government is accused of carrying out these killings against their own people. If these claims are true then this is a failed state, resulting in large numbers of non-combatant people who are left vulnerable in the face of mass slaughter. This is not a matter of being the "world police," it is simply a matter of being our brother's keep, of loving those who are defenceless.  Two biblical questions come to mind, one from Cain, one from Jesus: Cain, seeking to avoid moral responsibility, asked God, "Am I my brother's keeper?" Jesus, asking a question about his story of the good Samaritan in order to show what real love looks like in Luke 10:36-37
Which of these three, do you think, proved to be a neighbor to the man who fell among the robbers?" He said, "The one who showed him mercy." And Jesus said to him, "You go, and do likewise."
I also have (some) sympathy with those who would say "America shouldn't be doing this, we're always intervening in the Middle East and it was a big mess in Iraq." The sympathy I have over this concern is that I have not said and would not say that we should assume that this is America's job. I found it telling that when I briefly offered these thoughts in social media, a number of people responded by raising concerns about whether or not America should be doing this. I said nothing about America. I agree that in fact if any nation was to intervene to take out the Syrian state, America would likely play a larger role than anybody else. But the view that I have expressed here is not a view about what I think is most likely to happen. Maybe nothing at all will happen. Maybe these reports are not true. I don't know any of this right now. What I am talking about is what should happen if these reports are true. And what should happen is not that America should assume the role of protecting people around the world from tyrannical leaders. I think that this is the job of the whole world.
I have no sympathy with the response that says "why then are you not advocating intervention in X?" where X is some other scenario in the world. The suggestion here is that if some other scenario is really bad too (e.g. camps in North Korea) then we shouldn't address the situation in Syria. This does not follow. Even if both scenarios are exactly as bad as each other, and even if all the costs and benefits of getting involved are the same in each case, we would still be doing the right thing by intervening in Syria. Secondly, it is very unlikely indeed that the consequences of getting involved would be the same in every scenario. Take North Korea for example, which is a nuclear power involved in complex political relationships (especially with China). It is obvious that intervening in North Korea in an effort to dismantle the state would have major world consequences that doing the same in Syria would not.
I also have no sympathy that says "but the rebels in Syria are really bad too, so we shouldn't just want to dismantle the state." This is not a reason to refrain from intervention in order to dismantle the Syrian state. No doubt the rebels are every bit as bad as the objector believes. But it is not the job of rebel groups to protect or govern a nation. It is the job of the government, and if these reports are true, it is the government who is failing in this duty and instead killing its civilian population. The task of intervening in the way I tentatively favour will include looking at how best to address the problem of rebel groups, but their badness is not a reason to do nothing about the actions of the Syrian state. It is plainly untrue to suggest that by intervening to dismantle the Syrian state, we are somehow favouring or helping the rebels. In the world we want to build, the rebels (unfortunately) exist within the nation governed by the state, not the other way around. The world should not allow the presence and activities of rebel groups to hold justice to ransom any more than the world should allow the Syrian state to dispose of its civilian population.
So who exactly should do this? That is a good question. The purpose of the UN's existence, in part, was to have a united front against tyranny. UN forces – especially forces drawn from those who live in the most affected parts of the world – therefore strike me as the obvious choice. That the UN is generally unwilling to engage in activities like invading the nations of tyrants and seeking to dismantle their state is part of the problem. If we're going to band together to make the world a safer place, we need to realise that sometimes you have to fight for it.
This may all be moot. The reports may not be true (again, I do not know if they are, so much of this is hypothetical). But if they are true, a war waged to dismantle the Syrian state is justified. Exactly how this would be done and what should follow such a dismantling is a more difficult question, one that I have not answered at all.
Now, I realise that my readership is likely to be divided on this. So have at thee.
Glenn Peoples
Similar Posts:
If you liked this post, feel free to help support this project.